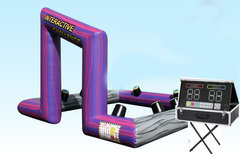 Battle Lights IPS Interactive Challenge with attendant
RENT THIS GAME AT A INTRODUCTORY PRICE OF JUST $210 REGULAR PRICE IS $260.00


Interactive Challenge Four hour Rental
Get involved with this active Interactive challenge!! This unique inflatable is interactive, fun and is great for kids of all ages and also great for teambuilding!
The Popular Interactive Challenge
Firstly, the Interactive Challenge is amazing and perfect for indoor and outdoor use. Uniquely, this inflatable comes fitted with 10 spot. Furthermore it challenges your hand-eye coordination, endurance and competitivness. As a result of its simplicity, the Interactive Challenge is awesome for all ages! 5 different games.


Attendant will run the game for you.